It takes a village to build an EV conversion ...
We're very grateful to the following bunch of enthusiastic & helpful people and organizations who contributed to the project through inspiration, education, moral support, generous discounts or donations of time & materials.
Roughly in order of appearance:



EVconvert.com - Jerry H.
www.evconvert.com
Jerry was one of the first people in the "EV community" I was in touch with, through his excellent web site, EVconvert.com. It's a hugely informative, amusing, and inspirational site - recommended reading for anyone considering a conversion. Jerry's site featured Greg's $800 Yugo EV, which was one of the vehicles that inspired the ForkenSwift. Thanks, Jerry.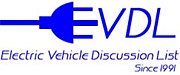 EVDL - the Jedi Masters of the EV community
www.evdl.org
Jerry introduced me to the EV Discussion List (EVDL), an old-school, e-mail based discussion forum, while Ivan and I were still in the "mulling it over" stage of the project. What are the odds that some of the list members were having a hypothetical discussion about building an inexpensive Metro EV using a forklift motor around the same time we were entertaining the same thoughts.
The EVDL is a high signal to noise ratio discussion forum, full of EV experts and enthusiasts, some of whom have been personally involved with EV's for 35+ years, and who freely, patiently & repeatedly dole out information & advice to all the noobs who come along (yours truly included).



The EV Album
www.evalbum.com
Even if you're not planning your own conversion, you could easily spend hours in the EV Album. It's full of fascinating vehicles of all types, with plenty of specs. It's one of the first places I recommend people visit if they are thinking of a DIY EV and want to see what's possible.



Hansler Industries Limited - Brockville
www.hansler.ca
Thanks in particular to Hansler's lift truck technician, Ralph, the guy assigned the task of showing/explaining to us the used forklift we bought. Lucky for us, he also patiently answered a barrage of our very basic questions - both before and after the sale - which must have had him wondering what we were getting ourselves into.
Hansler also donated a bunch of worn out floor sweeper batteries which we used as our "test pack". Since then, their manager (after seeing the car legal & on the road) kindly made a standing offer to sell us batteries at cost should we ever decide to splurge for a new pack.



Hi-Torque Electric - Jim Husted
www.hitorqueelectric.com
For years, Jim Husted has been helping both noobs and experts alike with their motor related queries & issues. His background as an electric forklift technician qualifies him, but his generousity & sense of humour is what sets him apart. While not working his day job, or building up motors for the fastest DC electric vehicles around, he's doling out advice for pedestrian projects like the ForkenSwift.
Specifically, Jim put our minds at ease by advising us (after reviewing some pictures sent via e-mail) that the forklift pump motor we wanted to use to drive the car was indeed in good condition and up to the task ... aside from its tricky internally splined shaft. Thanks, Jim!



EcoModder members
https://www.ecomodder.com
Thanks also goes out to the members of EcoModder's "fossil fuel free" forum who followed & participated in the ForkenSwift's conversion journal/build thread, offering good advice on everything from welding, to sourcing parts, to planning/reviewing the electric schematics, to simple (and much appreciated) encouragement & cheerleading that kept things moving along.



Promach Tool & Die Ltd. - Brockville
Bill is the machinist in town that people go to when they have a particular mechanical problem that requires a creative solution. And though we haven't seen him on the local trails much lately, both Ivan & I have gone mountain biking with him in the past. We entrusted Bill with arguably the most important step of the project: fabricating the motor/transmission coupler and aligning the motor & transmission perfectly on the adapter plate. And after all that he charged us an amount that would have been a bargain at twice the price. Thanks, Bill!



EVCO - Electric Vehicle Council of Ottawa
www.evco.ca
Online resources are great, but there's nothing like face-to-face and hands-on. Partway through the project, I began periodically attending EVCO meetings: meeting members, continuing to learn, checking out their conversions & OEM EV's. The ForkenSwift attended EVCO's 2007 EV Expo as a work in progress before it was even on the road, and has been to two more Expos since.
Several EVCO members have donated used batteries (or sold them to us at a discount). For that, thank you: Allan, Fred & Sue!



Phil B.
Thanks for donating the used 2/0 welding cable!



Billings Automotive Service - Brockville
I've been taking my internal combustion cars to Dean Billings' repair shop since it opened. When I first mentioned to him what we were up to, I saw the raised eyebrow. But despite any initial skepticism, ultimately Dean & his crew offered encouragement and advice that ensured the vehicle was ready for its two safety inspections (once as a gas car, and then again as an electric). When it was time to get it registered, Dean happily obliged when I told him the licence bureau asked for a mechanic's letter stating the car was now 100% electric.



Delta-Q Technologies; Roger S.
www.delta-q.com
Roger is a long time EVDL contributor, which immediately speaks volumes about the kind of guy he is. He helped me diagnose and repair our 24v battery charger after a component burned out. I helped him track down a few parts for his car (a Suzuki Forsa conversion based on the previous generation platform than the ForkenSwift), and we have compared power consumption readings of our transaxles. Roger's generous material contribution to the project, however, was a used/repaired QuiQ charger - a fully automatic 48v smart battery charger produced by his employer, Delta-Q Technologies. Thank you, Roger!



James M.
A big thanks to EV owner James in the U.K. for his home made LED battery pack monitor, arguably the most important instrument in the car. James parted with the gauge for a pittance, and then graciously refused additional funds when I came to realize what it was worth.