Cheap electric car conversion: the secrets of keeping it under $1000

The ForkenSwift's claim to fame is that it was done on a shoestring budget: it was on the road on October 11, 2007, legally registered and insured as an electric vehicle, for a net cost of $672 (Canadian dollars) including the car.
Since then, that figure has crept up to $ 997.60 (as of May 29, 2009), with some upgrades and additional components bought. And it may creep up further as we continue tinkering/refining.
Covered on this page:
How the heck did we manage to do it so inexpensively?

Modest performance goals
Buying used parts only
Selling the left over bits and pieces (ie. net cost vs. total cash outlay)
Ontario provincial sales tax refund for EV's
Discounts/donations from a few generous people

Isn't this an unrealistically cheap "one-off" conversion?
What would it have cost without selling parts or getting refunds, donations & discounts?
Detailed cost summary
How the heck did we manage to do it so inexpensively?
Four main reasons:
modest design specs (performance & range) = moderate cost;
by only buying used parts;
by selling every left over part possible;
because a few generous people gave us some stuff for free (or cheap)
1) Modest design specs: low/moderate performance = low/moderate cost
This part is pretty straightforward: a medium-speed car with modest range requirements is going to be less expensive than a highway capable car that must be able to go longer distances. Why? Because the medium speed car can have a smaller battery pack, less powerful motor & less powerful motor controller. Each of these is a significant chunk of the cost of a conversion. The battery pack price goes up with capacity, and the price of motors & controllers goes up with power output.
2) Buying used parts almost exclusively
Nearly all the components used in the conversion are second-hand. The only new parts we bought were:
potentiometers: two, about $3.40 each, Radio Shack
ammeter & shunt: new old stock, eBay $39.78 CAD (incl. shipping)
DC-DC converter: (2) new old stock, eBay $52.23
Even our battery pack is used. Because we don't require long range, second hand batteries are feasible.
3) Selling the left over bits and pieces
There's a significant difference between the project's net cost (just under $1k) and the total cash outlay. The total amount spent was closer to $2200 (all figures Canadian dollars), but we got more than half of that back mostly by selling a pile of stuff.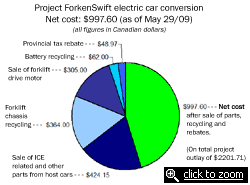 The cars: We started with the red Suzuki Swift for $75. But its underbits turned out to be too rusty to be worth saving, so we picked up the much better blue Metro for $175.
We swapped all the best parts over to the blue car, and then sold everything else we could, mostly online: the red car's engine, a nearly new radiator, door handles, some interior parts, transmission, tail lights, headlights. From the blue car we sold a nearly new gas tank, and engine block heater.
In the end, we sold $424 worth of un-needed car parts. You can see where this is going.
The forklift: similar story. We bought an entire used electric forklift, stripped its electric/electronic bits, and sold the bones to a metal recycler. We even sold its main drive motor to another EV builder (because it was too big to fit in the Metro). Our net cost for the forklift parts: $34.95.
Battery recycling
People who fret about "all those hybrid and electric car batteries going into the landfill" clearly don't understand that they're made of valuable materials that only a fool would throw away. A recycler will gladly pay you for them, and that was the fate of more than a few of our worn out golf cart batteries. We got $62.00 for battery recycling.
Ontario provincial sales tax refund for EV's
The provincial sales tax is refundable on parts bought for the conversion of a vehicle to alternative fuel or electric power. Our application is pending. We'll see if they're actually going to cough up the $ 48.97 in tax we paid for that forklift. For more info, see: REFUNDS & REBATES: Vehicles Powered by Alternative Fuels
It all adds up: we recovered $ 1,204.12 through the sale of extra parts, recycling and refunds. That's more than half the total spent on the project. And we still have parts left over from the forklift & cars that we're keeping as spares.
4) Discounts & donations from a few generous people
My friend, the machinist: gave us a very healthy discount on the coupler that he custom made for us, and for precisely drilling the holes in the adapter plate.
My new friend, the engineer at Delta Q: donated a used QuiQ smart charger.
Batteries, batteries everywhere:

The forklift supply company gave us our first eight batteries for free. OK, so these were near-dead batteries, but they got us started.
Alan gave us a pile of tired batteries that he'd swapped out of his Ford Ranger conversion. We were able to assemble a decent pack from these that could drive the car over 20 km on a charge, adequate for our needs.
Sue changed out her Jetta's battery pack last fall and sold us a set of fresher batteries for their scrap value. Thanks, Sue!

Priceless, free advice: without that, from many people, the project wouldn't have got off the ground.
Is this an unrealistically cheap "one-off" conversion?
It might seem easy to dismiss the ForkenSwift as an unrealistic one-off, assembled by obsessively cost-conscious builders. (The truth is we spent more on the project than necessary; over $100 worth of stuff that was bought wasn't needed/used.)
Since it was converted, two more highly affordable electric medium speed runabouts (their motors also sourced from used forklifts) have hit the streets. Which lends credence to the idea that electric drive does not have to be prohibitively expensive for the motivated tinkerer.
See: It's a Trend! 3 Dirt Cheap DIY Electric Cars. Other inexpensive vehicles can be found in the EV Album.
What would the project have cost without selling parts or getting refunds, donations & discounts
We estimated at the start that the project would cost $2600.
Detailed cost summary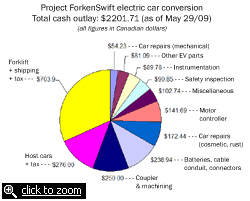 $  276.00 - host cars, taxes, fees
$   54.23 - car repairs (mechanical)
$   90.85 - safety inspection (x2)
$  703.95 - forklift, delivery, taxes
$  250.00 - adapter plate, coupler machining
$  141.69 - Curtis motor controller
$    6.82 - potentiometers (x2)
$   52.23 - DC-DC converter (x2)
$  175.00 - used batteries
$   63.94 - used cables & connectors, conduit, elect. tape
$   39.78 - ammeter & shunt
$   50.00 - LED battery pack gauge
$   22.04 - surplus 24v charger
$  172.44 - car repairs (body: cosmetic, rust)
$   45.56 - books: how-to build an EV; EV-1 controller manual
$   57.18 - miscellaneous
---------
$ 2201.71 - total cash outlay

$  424.15 - parts sold from host cars
$  364.00 - forklift recycling refund
$  305.00 - sale of forklift drive motor
$   62.00 - battery recycling
$   48.97 - provincial tax refund (pending)
---------
$-1204.12 - total sales, refunds
=========
$  997.60 - net cost (May 29/09)