Used forklift parts for an electric car conversion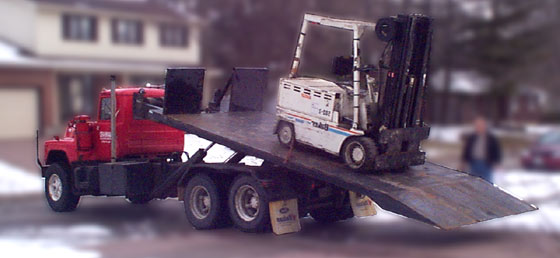 Most of the components used to build the ForkenSwift came from an old forklift: a decomissioned mid-1980's Baker FTD-110 (a 16,600 lb beast) that we bought, stripped of all its electric/electronic components, and then sold the carcass to a metal recycler.
Since doing this project, now when I see an electric forklift I think, "EV conversion kit in a box!" A really, really heavy box. Some assembly required. Batteries not included. (Seriously - it didn't come with the forklift battery, which would have weighed another 3,000 lbs.)
Covered on this page ...
Here's the loot we salvaged from the Baker
What parts did we use in the car?
Why didn't we use the forklift motor controller?
Where did we get the idea to use old forklift parts for an electric car?
How much did it cost? (Would you believe $34.95?)
Here's the loot we salvaged from the Baker:
Clockwise from top...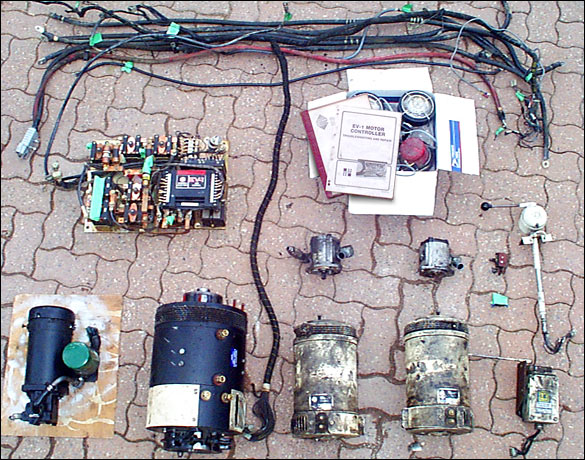 a bunch of 2/0, 3/0 and other cables & control wiring harness;

a box of miscellaneous goodies (motor controller manuals, lights, switches, gauges, horn, beeper, etc.);

Square D Co. direction lever (electrical direction switch);

Square D pot box (including potentiometer with high & low position microswitches);

two 8 inch diameter, 110 lbs, series wound DC pump motors and two pumps (above);

12 inch dia, 220 lbs, series wound DC traction motor;

6 inch .88 hp rated continuous duty permanent magnet steering motor & pump;

GE EV-1 SCR motor controller, plus control panel (fuses, contactors, bus bars);
What parts did we use in the car?
Much of the 2/0, 3/0 cabling; the pot box; one of the 8 inch pump motors; the corresponding shaft from one of the hydraulic pumps (in the motor/tranny adapter), contactors, fuses, bus bars.
See the complete list of components used for the conversion.
We ended up selling the main traction motor to another EV builder. The "twin" pump motor we still have on hand as a spare, should we ever need it (unlikely, but why not).
Why didn't we use the forklift's motor controller?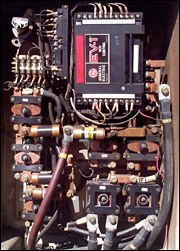 Click to zoom. GE control panel: EV-1 SCR controller (top right), plus 7 contactors, 4 fuses, and field weakening resistor (top left).
We also still have the original General Electric EV-1 controller (not to be confused with General Motors fantastic EV1 electric car).
Why didn't we use this controller in the car?
Mostly because I learned from the EVDL that an "old style" SCR (silicon controlled resistance) controller isn't really an ideal match for a small battery pack, such as in the ForkenSwift. I won't try to explain the details (mostly because I'd only be parroting what I've read from smarter people), but it has to do with the lack of built-in capacitance in the EV-1, which is harder on a few golf cart batteries than it is on a gigantic forklift battery.
Don't misunderstand: the EV-1 will work in a car. (You can find many examples of older conversions & OEM vehicles in the EV Album that use them.) But it may not be as efficient as a more modern mosfet-based PWM controller (Curtis, Altrax, etc.). Also, it's somewhat more complicated to install & set up. So we went with a Curtis controller.
Where did we get the idea to use old forklift parts for an electric car in the first place?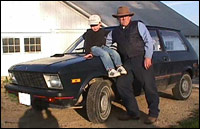 1) Greg's Yugo, over at EVconvert.com was one of several vehicles that inspired Project ForkenSwift. Originally, his 48v conversion was on the road with a forklift motor, other used parts and four 12v deep cycle batteries. It's since been upgraded to 72v. See his EV album page.
2) Coincidentally, around the same time I first read about Greg's Yugo, someone told me the EV Discussion List (EVDL) had an active thread about whether a "Joe Sixpack" could theoretically build a low cost Metro conversion with a forklift motor.
3) I happened to remember that one of the local high schools did an EV conversion, the "Brock Electruck" (GMC pickup), in the 90's. Digging for more info, I tracked down the instructor and learned that they built the project with some support from the local forklift supply/service company, Hansler Industries.
4) That inspired me to ask around about Hansler and I heard a rumour through the grapevine that they had some sort of "forklift graveyard". I got in touch with a technician at the company and he said that they did in fact occasionally have a few lift trucks in their warehouse that were available for sale or scrap.
How much did it cost? (Would you believe $34.95?)
I told the Hansler technician what we were up to, and made an appointment to look at a unit he thought might be appropriate. "Freshly serviced drive motor," he told us.
The price was $500 (plus tax), whether we took just the traction motor or the whole thing. Ivan and I looked it over, and a day or so later agreed to buy the whole thing (so we could strip out the other parts).
The challenge was getting the beast over to the house. At 16,000 lbs, your options are limited. So we hired a big truck with a tilt & load flatbed. It cost $125 to pick up & deliver from 20 km away.
$ 500.00 .... Forklift
$ 125.00 .... shipping
$ 78.95 .... taxes
-----------------------
$ 703.95 .... total
Fortunately we were able to recover our costs in two ways: first, we sold the stripped chassis to a metal recycler. And after we discovered the 12 inch traction motor was in fact too large to use in the little Metro, we eventually sold it to another EV builder who was looking for a motor for a larger vehicle. In the end, we got our forklift parts for a song:
$ -364.00 .... scrap refund
$ -305.00 .... sale of traction motor
------------------------------------
$ 34.95 .... net cost of forklift parts
More ...